Cleeve Racing Review
October 11, 2019
34 Views
Horse Racing Tipsters that can actually deliver long term profit are few and far between but one name that keeps cropping up is Cleeve Racing.
So I thought let's sign up to Cleeve and see if it really is as good as people say it is and whether it really can deliver long term results.
Cleeve has been going since November 2014 and is currently into its 5th profitable season.
Signing Up To Cleeve Is Simple
Signing up was really easy by visiting the website here you can get an exclusive discount on the usual £40 per month and get it for just £12 for your first month (then £40 per month as normal).
You sign up with WireCard a secure payment solution where you can pay with your card safely and once signed up you will receive all the necessary details via email from Cleeve Racing.
Receive Cleeve Racings Tips Easily Via Email
Selections are sent the night before the next days racing so you have plenty of time to get the best odds possible on the tips, this is where savvy punters make the extra money.
You will be told the selection, why they are picking it and where you can get the very best odds in each email.
Cleeve usually has 6-8 weekly bets at an average price of 10/1 so you won't have to waste hours upon hours placing bets just a few hours per week if that.
Claim your first month with Cleeve Racing with 75% off the normal price here
Cleeve Racings Performance – Full Profit Loss During My Membership for 3 months
So I joined Cleeve In July 2019 and wanted to get 3 months` results before I posted my findings.
Below is a break down of the 3 months from 9th June 2019 till September 9th 2019 selections along with the running profit/loss
The number of selections advised: 108
The number of winners: 38
Points profit in 3 months: +19.75 points (£20 per point staked advised) = +£395
Average profit per month: +£131.66
Verdict = PASSED!
View the full profit loss of Cleeve Racing Here
Free 10 To Follow Guide For Every Horse Racing Season
Not only do you get a full membership to a successful and profitable tipster for horse racing but you also get a very useful freebie and that is Cleeve Racing's ten to follow guide.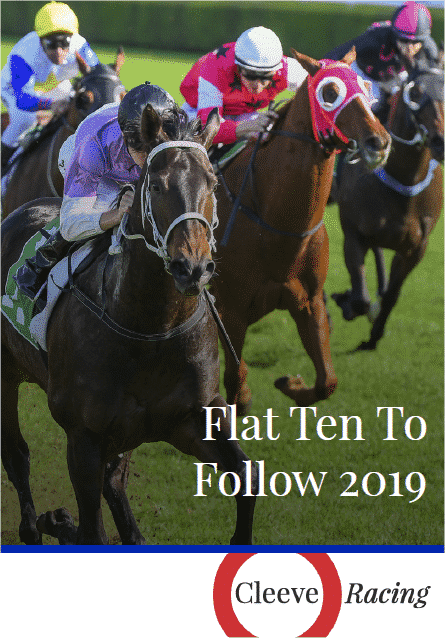 The free 10 to follow guide includes…
Classic chances, stayers, handicappers and dark ones
In-depth analysis with the preferred trip and going
Load in your tracker and follow through the season
The guide is well put together and the horses are well worth following if you use things like ATR (attheraces) free horse tracker tool.
Cleeve Racing Review Overview
So after being a member of Cleeve Racing for 3 months I am in a good position to say the service is profitable and is highly consistent.
Averaging a profit of £131.66 per month in the 3 months I was a member was a revelation for me following the strategy provided by Cleeve that was a profit on month 1 (with the 75% off) of £121.66.
The best advice I can give you is to take the annual membership at £329 as this will save you 32% on the monthly fee thus unlocking even more profit for you as you will have less expenditure on your membership fees.
So Cleeve Racing is a pass from me and I think it will be a highly successful horse racing tipster service for years to come.
My Verdict: Passed Score: 92%
Claim your first month with Cleeve Racing with 75% off the normal price here